When you feel rushed, you feel out of control. There is a difference between a full + abundant life and a hurried + busy life, don't you think? Based on each of our personalities and lifestyles, our lines are drawn at differing points, so we must seek wise counsel and slow down to seek and hear the voice of God to discover what he has purposed for us.
We are each capable of and called to different things -- so we must stop an consider what God would have us to do [and not do] so the best of who we are can emerge.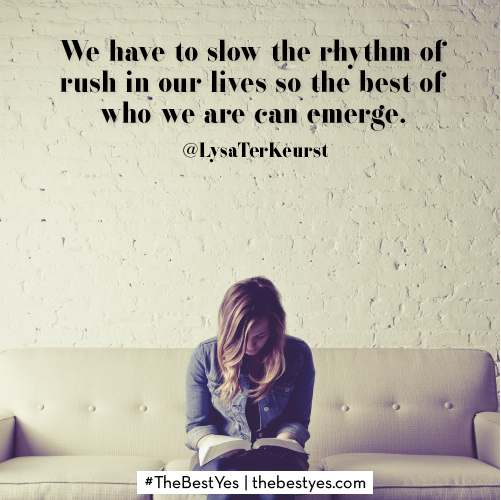 Often times, a motivator for me to do the wrong thing with my time is guilt and pride. I have felt like I must be "maxed out" in my commitments to impress others at my abilities to do-it-all. But why is this? Some of it stems from placing my identity in what I do rather than who I am and to whom my life is seeking after.
If someone says, "Tell me about yourself" how do you respond?
What I've done in the past is list off what I do.
Here's what that looked like 5 years ago::
I go to college.
I get good grades.
I'm a chaplain and sing in the choir.
I'm a member of ministry clubs.
I'm co-captain of the ultimate team.
I'm a chapel music coordinator.
I work in the library.
I volunteer in children's church.
I'm on a traveling worship team.
I play in the chamber orchestra.
I work at camp.
But I'm no longer doing any of those things. So who am I? What I did years ago is something about myself, but it is not all I'm about or who I will always be.
What I do in life reflects who I am, but it is not the sum of what I am and the true God I serve.
I need to choose what I do wisely and do it well. I need to say no to some things in order to make room for the best things -- the things I am meant to do. It's that concept of doing less, and being more.
I declare that in the past::
Rushing has stolen my identity. Rushing has made relationships harder to maintain. Rushing has distracted me from seeking God. Rushing has stressed me and harmed my health.
...and rushing can happen again, if I'm not purposeful about keeping it from happening. In fact, there are things I'm trying to cut back on even now. Let's keep each other in check, and not guilt others for their stage, but encourage them in this way of freedom!
New York Times

Bestselling author Lysa TerKeurst has written a book about finding your Best Yes. Many call this book "inspiring" and "fabulous."

You can read

my full review

of

The Best Yes here and enter a giveaway to win a book of your own

!
Comment below, because I'd love to know::
What has "rushing" stolen from you?
Get social with Mitchael Journey
Pinterest | Facebook | Instagram | Twitter | Bloglovin'